Slogan Tees on a Slippery Slope
Yes, we are selling our lives to afford just one brilliant piece from the Resort 2019 collections, but we shall return it immediately! Where are the slogan tees?
The fashion industry; a catalyst for political and social change, silenced? Maybe our form of self-expression is just changing. Far from the pre-pubescent days of FCUK in the 90's, slogan tees upped the ante. A middle finger to society not willing to change, these tees spoke for issues deprived of a voice.
We can thank the legendary Katharine Hamnett's infamous designs in the 80's that allow us to be everyday activists without trying to be the next Shailene Woodley. A politically motivated Hamnett wore a slogan tee reading, "58% don't want Pershing" (an anti- nuclear statement) as she shook hands with Prime Minister Margaret Thatcher. The stunt caught on because "slogans work on so many different levels: they're almost subliminal. They're a way of aligning themselves [yourself] to a cause. They're tribal" she said to the Guardian.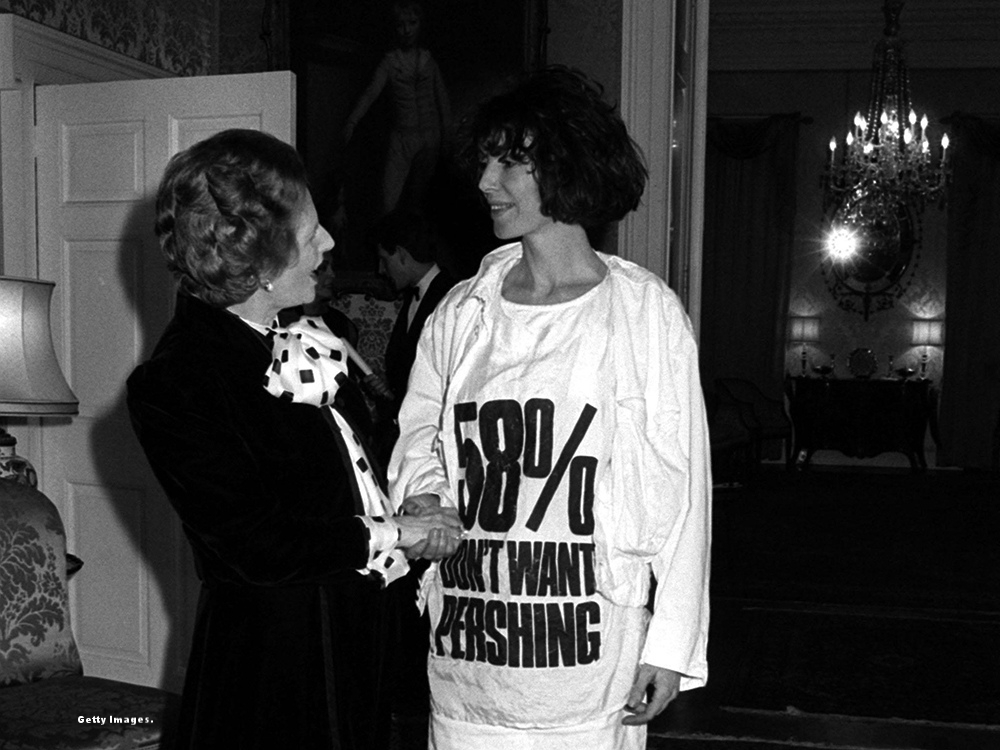 "They're tribal. Wearing one is like branding yourself"
From outcasts to minorities, the LGBTQI community, Trump-influenced memorabilia and gun violence, fashion has spoken on behalf of it all… (sometimes you have to think harder about what is right with our society) But when Maria Grazia Chiuri sent the "We should all be feminists" down the Dior catwalk in October 2016, it took off like wildfire igniting passion and discussion for women's rights. It also rekindled slogan tees. So where are they now? It's not as if we now live in a utopian society (not that I would want to either because I have never seen them eat pizza in those movies…)
Hence, we make assumptions; do they wait for a social issue to heat up before they act? Are they trying to attain shock factor? Maybe they wait for the right moment to achieve maximum publicity? Or perhaps they are just trying a different way to make a political statement. It's possibly in the garments themselves, their stitching, the way they flow (or counter to), the patterns, the cut and the accessories that tell their story. The Dior Resort 19 collection recently on the runway appeared to use masculine cuts, earthy colours and ridged materials alongside flowy, feminine dresses. Could it still be a message for women's equality and for all we embody? Let me know what you think in the comments below! And remember, just because slogan tees aren't in, doesn't mean we can't rock the shit out of them. I would still like to be a walking billboard please.
WRITING AND PHOTOGRAPHY BY KATELIN RICE